Between November 29 and December 4, School of Materials Science and Engineering professor, Shanghai Thousands Plan Expert, Xin Chen went to United States and attended 2015 MRS Fall Meeting & Exhibit.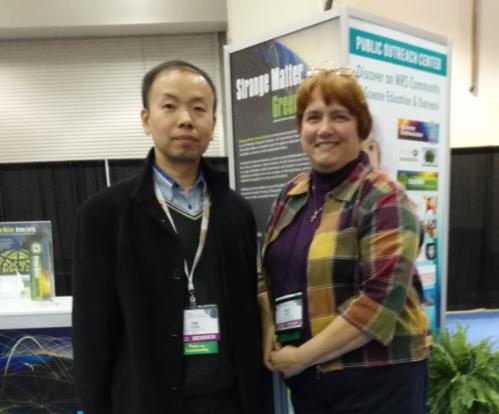 Photo of professor Xin Chen and MRS official taken during the meeting time
During the meeting time, professor Chen communicated with experts in the international frontier research fields in many ways, listened to the current research progress reports in the field, reported the latest work of his group in the meeting, and carried on beneficial discussions with MRS officer, Ms. Pamela Hupp, about scholar participation in public outreach programs on material science.
MRS is a widely respected international academic organization. It now consists of over 16,000 members from the United States—as well as nearly 80 other countries, including scientists, engineers, and research management persons from industry, government, and academia research labs. The society is well known for its high level international meetings. The yearly MRS Fall Meeting is a preeminent annual event in the international interdisciplinary material research, with nearly 6,000 attendees. It is currently the largest and highest level material science meeting in the world.